Want your deck to look like new and last much longer? Pal's Power Washing has a lot of experience with cleaning decks and applying water repellent.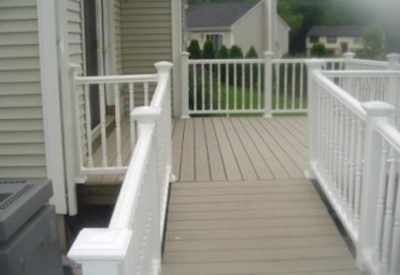 Stunning Results from Pal's 3-Step Deck Restoration Process
Deck after Pal's Cleaning Process
Pals now offer Deck Repairs and Deck Building. We are a Certified Pro with HomeAdvisor
Protect your investment! Too many people spend countless time and money building beautiful wooded decks and sadly watch them deteriorate because their wood is unprotected from forces of weather. The damaging effects of weather to unprotected wood begins immediately. Rain, melting snow, and morning dew are quickly absorbed by unprotected wood causing it to soften and swell. The sun's heat causes drying which makes the wood shrink. These cycles of wet and dry, swelling and shrinking, cause wood to warp, split, and crack. All of which leads to premature wood life and expensive repairs.
Unprotected wood is also subject to mildew and algae growth, rot and decay, surface graying and degradation from ultraviolet (UV) rays from the sun, and insect attack from a variety of sources.
Pals Power Washing, certified deck contractor that specializes in Deck Washing, Deck Restoration, and Deck Staining. We will restore your wood to its original bright, clean, natural look and protect it from damaging exposure to the elements.
Step 1: United Association Mobile Contract Cleaner, we use an environmentally friendly, low pressure cleaning system to safely remove dirt, mildew, and dead wood fibers to restore your wood to its clean, natural, like-new appearance.
Step 2: To protect your wood into the future, we apply a high performance Benjamin Moore to keep your wood looking its best.
Step 3: We will call you every 2 years thereafter to wash your deck and apply another coat of water repellent. This preventive maintenance is needed to protect the wood and unnecessary costly repairs.
We also wash Composite Decks.
PAL'S POWER WASHING
Residential and Commercial Property Cleaning and Restoration in CT
Veteran Owned and Operated by Kevin A. Palladino